She gets up while it is still dark; she provides food for her family.
-Proverbs 31:15
Have you been looking for a cookbook geared towards daughters?
No need to look any further!
The Maiden's Menu is a compilation of 365 easy-to-read recipes from readers of The King's Blooming Rose Magazine (a wonderful resource for young ladies 12 and up). From wholesome smoothies, gluten-free breads and desserts, salad dressings, scrumptious pies, to recipes for homemade cream of soup, toothpaste, lotions, hair spray and shampoos, to toxin-free cleaners – you are sure to reach for this cookbook again and again!
Cooking is a practical and needed skill; as daughters seek to serve their families, they can be a great blessing by helping to plan and prepare nutritious menus. This cookbook is designed especially for Christian daughters, to inspire them to joyfully serve creative meals as unto the Lord!
Your own cooking journey will be enhanced as you enjoy other daughters' family-favorite recipes. As you use this cookbook and record your own kitchen experiences, this will become a wonderful keepsake to pass down to your future daughters one day. For this reason,  included are several pages for you to add your own recipes and notes in the back. Space is provided surrounding recipes to provide room for
you to add notes or alterations.
This 292-page spiral bound cookbook contains more than recipes, however! It is also a treasure-trove of nutritious menu-making tips, apron-making and napkin folding tutorials, tea party thoughts, and much more. You'll also find special, interviews with daughters who love to cook for their families.
Beautifully decorated with original calligraphy by Sarah Hulslander – and also contains photography and artwork throughout.
This is a cookbook you'll reach for again and again throughout the years!
It includes:
r e c i p e · c a t e g o r i e s
Wholesome Breakfasts
Salads & Soups
Vegetable Side Dishes
Main Dishes
Breads, Rolls & Muffins
Delicious Desserts
Healthy Treats (Gluten-Free and Sugar-Free Recipes)
Dips & Snacks
Homemade! (Alternatives to Commerial Products)
e x t r a s
Interviews in Each Chapter!
Menu Planning for Health & Home
Menus for Special Events & Traveling
Host a Tea Party!
Hospitality: a Home-Based Ministry
The Maiden's Apron: A Tutorial
Substitutions for Cooking
Cooking Tips
Herbs for Savory Cooking
This book is fabulous and worth every penny–you won't be disappointed.
You can find The Maiden's Menu HERE for on sale for just $12.50!
The Homemakers Giveaway:
We are giving away  ONE copy of The Maiden's Menu to one special reader–just fill out the entry form below!
Homemaker's Hot Tip:
You can get The Maiden's Menu package on sale for Christmas right now:
And this package: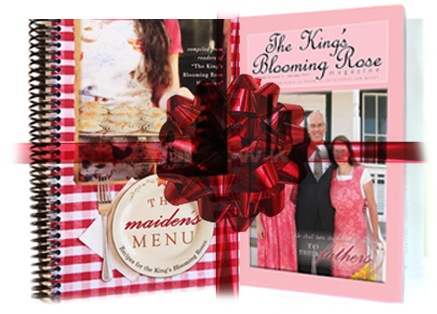 The Maiden's Menu Cookbook &
One-Year USA Subscription to King's Blooming Rose Magazine for Girls
now $20.00, find it here.
Please enter below for the giveaway (US entries only please):
Hope you win!